Combined Geo-Scientist Syllabus 2018 UPSC Geologist Exam Syllabus
UPSC Combined Geo-Scientist Syllabus 2018 GENERAL ENGLISH, Geology Geophysics, Chemistry and Hydrogeology  Paper 1, 2, 3 PDF Download, UPSC Geologist Exam Syllabus 2018 detail is given below: 
A paper in General English is compulsory and common for all the four categories and its standard will be such as may be expected of a science graduate. 3 compulsory papers each on Geology Geophysics, Chemistry and Hydrogeology subjects will be approximately of the M.Sc. degree standard of an Indian University and questions will generally be set to test the candidate's grasp of the fundamentals in each subject.
There will be no practical examination in any of the subjects.
GENERAL ENGLISH : 100 Marks
Candidate will be required to write a short Essay in English. Other questions will be designed to test their understanding of English and workmanlike use of words.
GEOLOGY – PAPER I : 200 Marks
Section A : Geomorphology and Remote Sensing.
Introduction : Development, Scope, Geomorphic concepts, Types and Tools; Landforms: Role of Lithology, peneplaination, endogenous and exogenous forces responsible, climatic and Tectonic factors and rejuvenation of landforms; Denudational processes : Weathering , erosion, transportation, weathering products and soils – profiles, types, duricrusts; Hillslopes : Their characteristics and development, fluvial processes on hillslopes; River and drainage basin: Drainage pattern, network characteristics, Valleys and their development, processes of river erosion, transportation and deposition; Landforms produced by geomorphic agents: Fluvial, Coastal , Glacial and Aeolian landforms; Geomorphic indicators of neotectonic movements : Stream channel morphology changes , drainage modifications, fault reactivation, Uplift – subsidence pattern in coastal areas; Applied Geomorphology : Application in various fields of earth sciences viz. Mineral prospecting, Geohydrology, Civil Engineering and Environmental studies; Geomorphology of India: Geomorphical features and zones
Electromagnetic radiation – characteristics, remote sensing regions and bands; General orbital and sensor characteristics of remote sensing satellites; Spectra of common natural objects – soil, rock, water and vegetation. Aerial photos – types, scale, resolution, properties of aerial photos, stereoscopic parallax, relief displacement; Principles of photogrammetry; Digital image processing – characteristics of remote sensing data, preprocessing, enhancements, classification; Elements of photo and imagery pattern and interpretation, application in Geology; Remote sensing applications in interpreting structure and tectonics, Lithological mapping, mineral resources, natural hazards and disaster mitigation, groundwater potentials and environmental monitoring. Landsat, Skylab, Seasat and other foreign systems of satellites and their interpretation for geological and other studies; Space research in India – Bhaskara and IRS systems and their applications, Thermal IR remote sensing and its applications, Microwave remote sensing and its applications. Principles and components of Geographic Information System (GIS), remote sensing data integration with GIS, applications of GIS in various geological studies.
Section B: Structural Geology
Principle of geological mapping and map reading, projection diagrams. Stress-strain relationships for elastic, plastic and viscous materials. Measurement of strain in deformed rocks. Behaviour of minerals and rocks under deformation conditions. Structural analysis of folds, cleavages,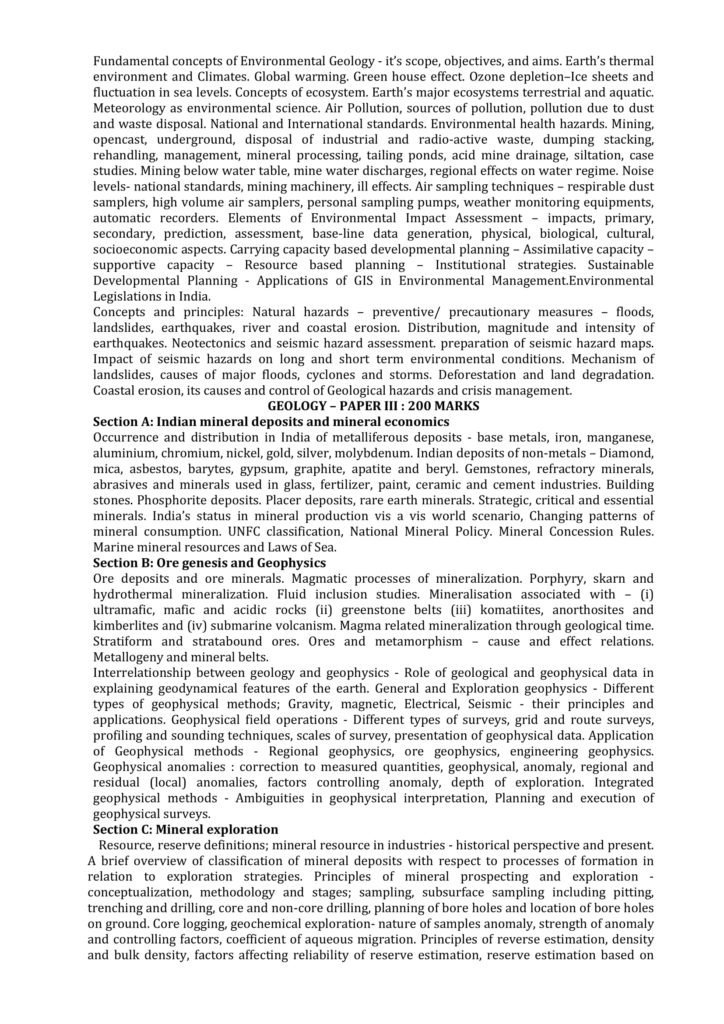 Related Posts :