Odisha Joint Entrance Examination JEE Cell has announced OJEE 2019 Admission To First Year Degree Courses -in B. Pharm, Integrated Mba (5 Years),  Lateral Admission To Second Year (Third Semester) B. Tech./ B. Pharm/ Mca, First Year Masters Degree Courses In Computer Application(Mca), Business Administration(Mba) And M Tech / M Pharm / M Arch / M Plan / M Arch(Exe.). Date Of Examination is 12th May 2019 for OJEE 2019.
Important Dates for OJEE-2019
Last date for filling-up of online Application forms – 20th March, 2019
Starting of downloading of Admit Card – 20th April, 2019
Date of Examination – 12th May, 2019 (Sunday)
 Probable Date of Declaration of Result – 1st week of June 2019
Download Official Information Brochure for OJEE 2019
Click here to download the Information Brochure for OJEE 2019 contains all the important information relating to OJEE – 2019 including instructions for making online application, important dates and notes for applicants, categories and reservations, eligibility criteria, subjects and syllabus etc.
Application Form for OJEE 2019, Online Registration Open till  20th March, 2019
How To Apply
Follow all the instructions for filling up the form and go through the important notes carefully.
You have to retain a printout of the CONFIRMATION PAGE.
Once duly filled in application form is submitted, no further change will be entertained under any circumstances.
| | | | | |
| --- | --- | --- | --- | --- |
| Step 1 | Step 2 | Step 3 | Step 4 | Step 5 |
| REGISTRATION AND PASSWORD CREATION | FILL UP APPLICATION FORM | UPLOAD  PHOTO, FULL SIGNATURE & LEFT THUMB IMPRESSION | MAKE PAYMENT | TAKE PRINTOUT OF CONFIRMATION PAGE |
A candidate can apply for the Odisha Joint Entrance Examination (OJEE-2019) through on-line process only by visiting the website ojee.nic.in / www.odishajee.com.The information desired to be filled in the online application may be kept ready. Before submission of application form, make the following preparations:
Through
Decide the mode of payment of fee through either:
Debit Card/ credit card (VISA/ MASTER/ Maestro cards/ internet banking)/ using on-line gateway payment facility. SBI and Bill Desk both gateway available for online transaction.
OR
Depositing with State Bank of India through e-challan, which can be obtained after filling on line application (State Bank collect).
If decided to pay fee through Debit card/ credit card (VISA/ MASTER/ Maestro cards/ internet banking) check the validity of the Card and keep it ready with you while logging on to website for submitting application form and generation of Confirmation Page. Final print out of confirmation page will be available after 2 working days of fee payment. If you are facing any problem, please contact JEE Cell.
If decided to pay fee in the off-line mode, choose the Bank for depositing the Fee through e-challan after completing on line application form fill up. There will be two copies of the e-challan:- (1) Bank Copy, (2) Candidate copy -all printed in a single page.
After Depositing Fee in the Bank by using e-challan, candidate has to log in again to take print out of the confirmation page. Final confirmation page can be printed after 2 working days of payment. If you are unable to print, please contact OJEE cell for a clarification.
General Informations Regarding Which Entrance Test To Appear
Requirement Of Subjects And Minimum Marks For Admission To Different Courses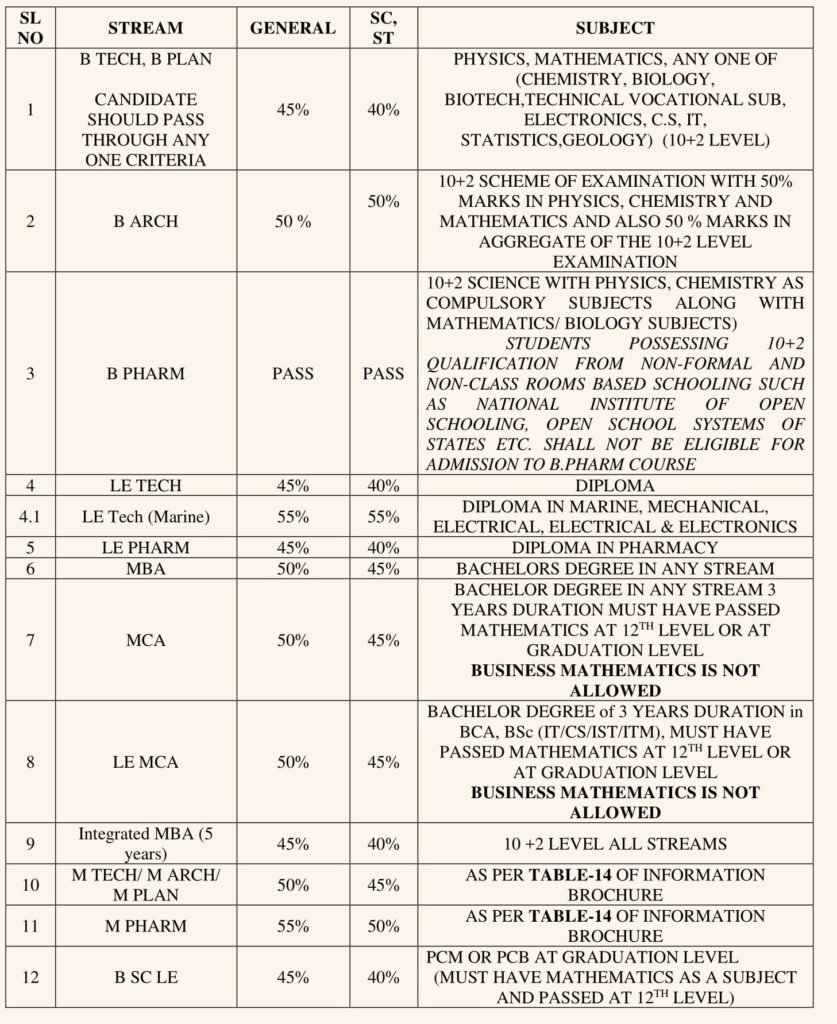 Reservation For Different Straems In Different Category
Fee Structure:
Fees payable to colleges/institutes/universities:
Fees payable to colleges/institutes/universities at the time of admission will be decided by the competent authority. The same may also be published in OJEE website during counselling after approval by Government of Odisha.
Age limit:
The Government of Odisha/OJEE-2019 will not be responsible, wherever there is no age limit for taking admission (as mentioned in the eligibility criteria vide Section 3) for any regulation of service where such requirement for age exists. The candidate should take admission at his / her own risk as regards to age. For all admissions, the criteria of Age limit (as mentioned in the eligibility criteria vide Section 3) fixed by Government of Odisha/Government of India/ MCI will be applicable as per rule. A Candidate not fulfilling the age limit, if any may be debarred from his/her admission and the Government of Odisha will not be responsible for that.
Medical Fitness:
OJEE will not be responsible, if a candidate faces difficulty in employment on medical ground. Candidates claiming reservation under physically challenged(PC) category will have to go through a Medical Board (Clause 2.1.4) verification. The decision of the Medical Board will be final and binding. Medical Board will be conducted at SCB Medical College, Cuttack and the corresponding date for the same will be declared during counselling period for the candidates to appear there. Candidates who will not appear medical board or not declared
In addition, separate merit lists will also be published for candidates qualifying under each of the reservation categories. Each successful candidate shall be given a rank card, which he/she has to download from OJEE-2019 website.
There is no lateral entry admission to B Arch. course as per Council of Architecture norms in 2nd There will only be admission at 1st year for B Arch course.
Admission to Integrated MBA is subject to approval of the course by AICTE/ UGC/ Govt. of Odisha/ Govt. of India/ BPUT/Other University of the state.
Eligibility Criteria